The first race for WOC2011 was the Long Distance Qualifications, with Australia being represented by Julian Dent, Rob Preston, Vanessa Round, Jasmine Neve and Aislinn Prendergast.
The courses were very tough as expected, with the mens winning times much longer than expected. The courses started with some relatively easy to navigate but very physical legs through steep open meadows in the blazing sun, then the second half was through the much slower technical forest.
Julian produced our best result to finish in 13th position in Heat A and qualified for the final. "I was technically I was happy with my run, although I made a small mistake after a steep climb at the end of the long leg. It was physically very challenging…"
Rob was pretty disappointed with his run, particularly selecting a very poor route choice on long leg #5 which cost him a lot of time. He had some good sections in the more technical middle section but made a few more mistakes near the end as he got tired. "The highlight of my race was getting caught, and following Thierry for the final loop of 4 controls. And I repaid a favour to my favourite Swiss Orienteer (and multiple world champion) by showing him where he was at the 2nd last control!", Rob said.
Jas, Ness and Aislinn had a frustrating day, missing the finals by 8, 24 and 85seconds, in 16, 17 and 18th positions. Vanessa and Jasmine said they were overly cautious but it really became evident that you really need to have a clean and fast run to qualify- qualification really is tough! Jas had some trouble with the difficult longer route choice and made some mistakes on the more technical legs in the forest. Vanessa was well on track to qualify until losing too many vital seconds at the second last control. Aislinn had a really good run, but made one significant mistake on a difficult leg, to just miss out. Overall a great performance for her first WOC, and she can be confident in her ability to qualify.
Julian will run the long final on Thursday.
WOC 2011 Middle Distance Qualifications
Sunday saw competitors back at Les Creusantes for the middle distance qualification. The girls started first, with Jas drawing the very first start block, and Vanessa and Grace following up.
Jas started well, but made two big mistakes at the 4th and the 8th controls. Ness had a screamer and qualified in 8th place. Grace felt that she was bit scrappy overall, but qualified comfortably in 13th.
The boys had excellent runs in some very cut throat heats. Robbie finished in what looked, for most of the day, like a very promising time, but was pushed into 19th place at the end of the day, missing out on a place in the final by just … seconds. Simon ran well but lost vital time on a route choice towards the end and was pushed into 19th place at the end of the day. Both were a bit disappointed- there was really no room for error for qualifying for the men's races. Julian struggled with illness from the night before. He said he had no energy and felt weak during the race. He was also disappointed with some mistakes towards the end of his course.
Ness and Grace will run in the final on Friday, and the boys will shift their focus to the Sprint and Relay.
Today is a rest day with a model event for the sprint races tomorrow, last minute walks around the town of Aix Les Bains where the sprint qualification race will be held tomorrow mornin, our usual baguette lunch and some attention from Steve, our physio.
Follow Grace, Mace, Rachel, Simon and Jules in the sprint races tomorrow at the WOC2011 live results page http://live.woc2011.fr/
Here is a great action shot of Rachel doing some sprint training- speed and agility around sharp corners is crucial!!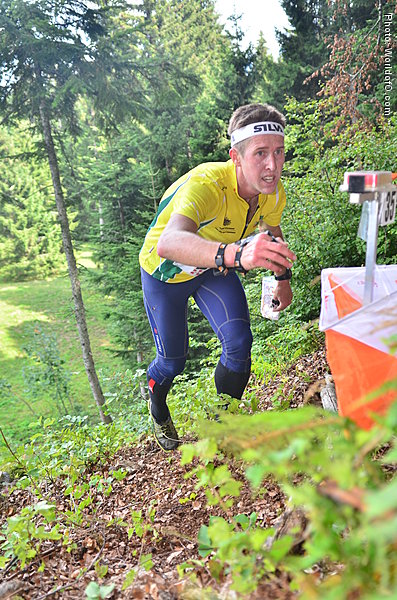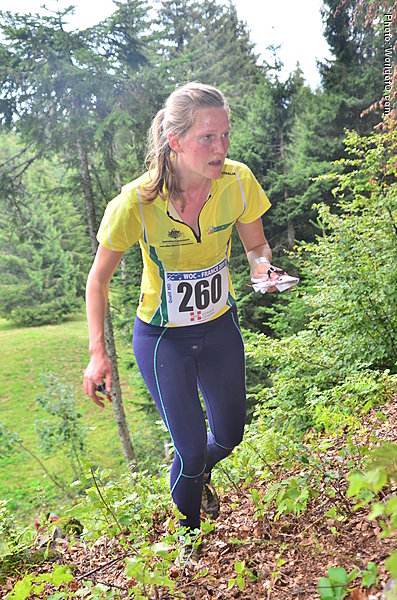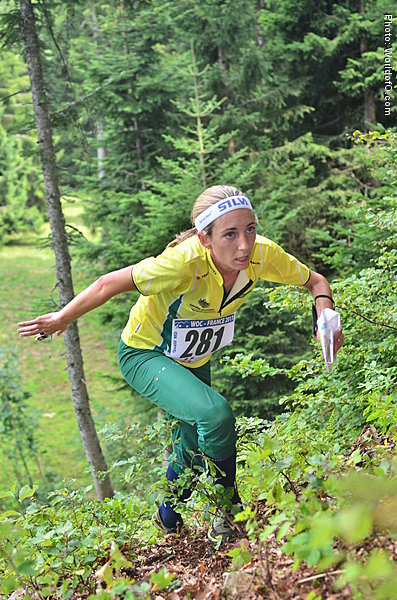 These great pictures and more at http://runners.worldofo.com/woc2011_AUS.html thanks to www.worldofo.com