Today was the technical test of orienteering the middle distance. The final test will come tomorrow but there are many that didn't pass today's. For the Boomerangs four of our six runners made it through to tomorrow's final and this is how it played out in the middle qualification....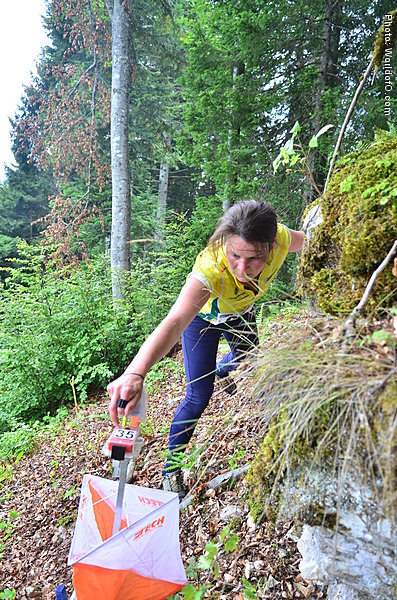 Jasmine (above) had a solid but cautious run and was right on the edge of qualifying. Many nervous minutes were spent warming down around the arena before Jas was finally confirmed in 15th place and into the final. This was a great performance from Jasmine in technical Scandinavian forest and she will race her first WOC middle final tomorrow.
After the qual
Next in was Ness who had a smooth run with only a few wobbles and hesitations. This terrain certainly suits Vanessa's skills with tough running and technical orienteering. She ended up in 8th place in her heat to be starting mid field in tomorrow's final. She will be beaming with confidence from this run!
Next up was Hanny who had the advantage of being in the know as soon as she finished with not many ladies left in the forest. Despite doing her best to provide some entertainment with the GPS on the first control she finally settled into the map and got into her routines and finished strong to place 12th in her heat. Watch out for Han in the final!
Coach Wendy delivers the happy news - Oh yeah!
Happy ladies!
Breezer!
First bloke to finish was Breezer. He had a tough day out there today and placed a valiant 30th place in his heat. It was a brutally technical course with big mistakes by the best in the world
(check it out here)
and Bryan is already out in the same forest building his confidence for the relay... so watch out!
Next in was Lachy who was having a storming run and was sitting in 23rd position in a very competitive heat until the second last control where he rolled his ankle badly and had to hobble into the finish to place 29th in his heat. This was a solid run for Lachy (until his injury) which he can take a lot of confidence from in the future but his ankle injury will be assessed by Elin tomorrow to see if he can back-up for the Relay.
Seconds count Simon....5,4,3,2,1....
To finish off the Aussies today Simon came into sight just in time. Watching him on GPS we knew it would be close...and we were yelling at him pretty loud in the finish chute.....but as usual Simon was calm as a cucumber and he waltzed into the final with 3 seconds to spare placing 15th in his heat. A solid run from Simon and we know his uber calm approach will suit the technical final tomorrow!
Simon close your eyes....Coach Tom's positive pose!
Coach Tom close your eyes....Simon's positive pose!
If you would love to see some entertainment from today we suggest you check out the
GPS routes here.
The Middle Final tomorrow is on very similar terrain which we are sure even Thierry will love. With plenty of downhill legs and some tough climb thrown in for fun expect some great racing.
Tune in live
here
Aussie's in action (AEST Friday)
Simon Uppill 20.11.30
Jasmine Neve 22.05
Vanessa Round 22.17
Hanny Allston 22.38
Cheer them on loud and proud!