Hi all, Lachy Dow reporting to you from Vuokatti, at the end of a hectic day of both the sprint qualification and sprint final.
The qualification was held in a holiday park consisting of many nearly identical houses, a put put gold course and some water features. The organisers also put up temporary fences for added route choices.
Sprint Qual Map
The runners and spectators were greeted with a great day and cut-throat racing. It was a good qual for us Aussies, with all three women qualifying! Simon made it through to the final as well, and while Bryan missed out, it really was a good international debut. to give you an idea of how tough qualifying is, Bryan was 26 seconds and five places away from the cut off. all with seven stitches in his knee! Dont worry bryan, you'll be back with a vengeance!
'Breezer' breezing through the Qual
Intimate racing in the qualification with big crowds
Simon 'bumming' the crowds away
By the last control Simon had perfected his punching technique!
Happy qualifiers
Do I have to take this picture...
After lunch back at our accommodation and a short celebration for Susanne's birthday (happy birthday Sus!) runners began refocusing for the sprint final. for most this is all about relaxing and getting a bit of sleep, but for everyone its about eating and drinking! Simon's favourite (recovery) foods are pringles and coke.
After dealing with the traffic jam of spectators (over 5000 of them) getting to the final arena, we were greeted with one of the coolest sprint arenas possible. The runners both started and finished in the Sotkamo baseball stadium:
The Sprint final arena.
The women ran first, and our girls did us proud, with Felicity in 31st just pipping Vanessa (32nd). Both seemed to have cautious but clean runs, a sound strategy in the town sprint which was heavily modified with impassable temporary fences. Route choices with often wide and convoluted, and hard to spot on the map. Jasmine was disappointed with her run, with an early mistake and she found it hard to find routes through the buildings. But when you see how high the level of competition is, just making it to the final is no small feat. There was no betting (literally) on who the winner of the womens race would be. Simone Niggli was the unbackable favourite as she stormed home for the gold medal.
Vanessa starting
Jasmine starting
Fel starting
Vanessa loved the experience and atmosphere!
Jas found the route choice really tricky!
Fel discussing her course with Elin after the finish.
Simon making a flying start.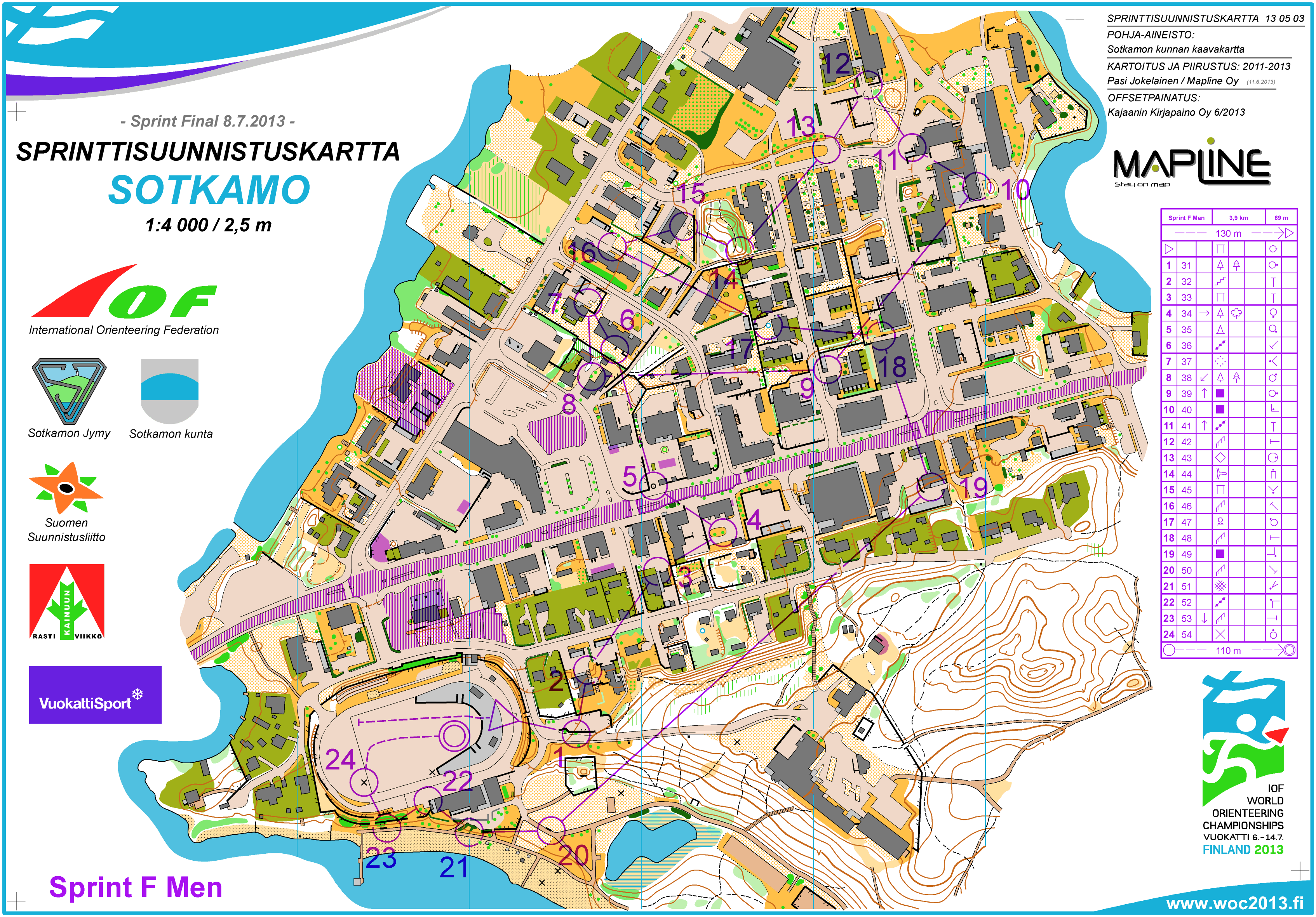 Men's Final
In the mens race Simon made a cracker start to be right up there through the tricky labyrinth style section in the town, but he faded a little toward the end with a mistake missing the small gap on the way to the last control which cost him a few places. But, Simon did come out with his best ever WOC result of 30th place. Mårten Boström gave the home crowd something to cheer loud about when he stormed through the course and provided the first real surprise of the WOC week winning gold ahead of a great friends to many Aussies and someone we were cheering loud for - Scotsman, Great Brit, Prisoner of Her Majesty... Scott Fraser with Sweden's Jonas Leandersson third.
It certainly was a great atmosphere in the arena but the online results failed to work for most of the Women's race along with a distinct lack of commentary did make us wonder that maybe you had more information than us watching back in Australia.
Tom 'The Boss' Quayle wondering which country this weirdly dressed supporter comes from???
After a big day, Tom 'The Boss' Quayle went to extraordinary lengths, (with the permission of Wendy 'The Manager' Read) cleaning up spectators and driving off gutters, to get home on time for a late dinner and bed. Just to prepare for the long, the classic day tomorrow where we have Hanny Allston looking to perform in the forest in the Long Distance Final. Remember, grab a beer, the paper and watch away, it is just like cricket....goes alllllllll daaaay. We will be out there cheering Hanny on and we hope you are at home as well!